Long-term Management Policy
NAGASE Group has formulated the Long-term management policy aimed at moving us toward our 200th anniversary in 2032. It provides directions that we can not accomplish through our current activities. We are taking action together to bring change to NAGASE under the Long-term management policy.
Challenges
for Growth
Increase growth investment
Accelerate organic growth
Expand overseas operations
Reinforce
the Management
Platform
for Growth
Restructure global governance
Increase flexibility in HR management
Enhance safety and assurance
Consolidate communications infrastructure
Challenges for growth
Realize a significant growth by allocation resources to focus field, and by shifting operation from Japan-centrism to multinational management system.
Research business investment as a means for growth, including large-scale investments.
Reinforcement of business base
Lead our challenges for growth to success, with forming the basis of scale expansion and globalization.
Image of Growth Path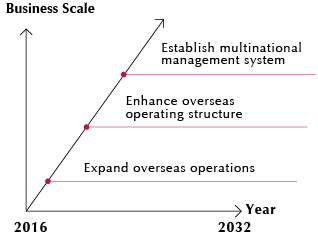 Mid-term Management Plan
A

ccountability

C

ommitment

E

fficiency
ACE-20202016-2020 Mid-term Management Plan
Positioning of
ACE-2020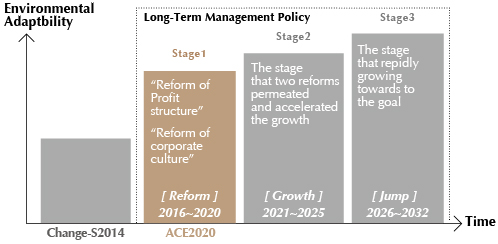 KGI(Key Goal Indicator)
KGI
FY2015
FY2020
Consolidate Sales Amount
742.1 Billion Yen
1.0 Trillion Yen or more
Consolidate Operating Income
18.0 Billion Yen
30.0 Billion Yen or more
ROE
4.4%
6.0% or more
KPI(Key Performance Indicator):Factor index to achieve KGI
Reform/Strategy
measures
KPI(index)
FY2015
FY2020
Profit Structure
Reform Indicator
Increase Focused Business
(Portfolio Optimization)
*Operating Profit in Focus Area
10.3B Yen
16.9B yen
Growing investment distribution ratio in focus area
N/A
35% <
Accelerate Globalization
(Expand and Strengthen Profit Structure)
*Overseas Group Sales
424.7B Yen
600B Yen
Sales Growth Rate in USA
N/A
170%
Increase Manufacturing Profitability
(Expand and Strengthen Profit Structure)
*Operating Profit from Manufacturing
8.3B Yen
14.4B Yen
*Break-Even Point Sales Ratio
82%
73%
Corporate Culture
Reform Indicator
Pursue Efficiency
(Strengthen Management Platform)
Consolidate Selling, General and Administrative Ratio
9.9%
9.4%
Financial Strategy
Indicator
Investment
Growth Investment
N/A
**100B Yen
Financial Structure
Rating(R&I)
[A]
[A] or more
* The figures in this document are all management accounting data(simple sums)
It is different from the figures disclosed on the consolidated financial statement
** Total numbers in 5 years
ACE-2020

Basic Policy
NAGASE Transforms from "Shosha/Trading" to "Business Designer"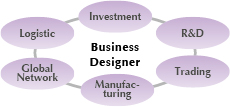 [6 functions]
Nagase strings all the groups together to create and provide new value to the world through 6 key functions.
Reform Profit Structure
Portfolio Optimization Categorization of business and execution of strategy that matches with the area
Replacement of asset and reallocation of resources
Acceleration in investment that creates core business of group
Expand and Strengthen Revenue Base Accelerate globalization "G6000"
Improve manufacturing profitability
Reform Corporate Culture
Mindset Breed independence and responsibility
Share the Management's message
Through monitoring and PDCA
Strengthen Management Platform Pursue efficiency
HR development
Reform Profit Structure : Portfolio Optimization
M&A conducted by HQ that adds into Focus and Base area
Base
Contributed to stably increase the corporate value [Resource Allocation Policy]
Resource allocation to sustain business
[Priority Measures]
Reduce fixed and liquidity costs
Minimize risk
Group Synergy
Stabilize business
Improve profit structure
Rationalize & Restructure
Focus
Expected further increase in profit - Life & Helthcare - Electronics -
[Resource Allocation Policy]
Intensive resource allocation that accelerate growth
[Priority Measures]
Expand scale
Examine profit structure
Horizontal expansion of market
Strengthen marketing
Minimize risk
Improvement
Immediately required drastic improvement in profit structure [Priority Measures]
Review existing strategy
Drastic structural reform that involves withdraw
Growth/Emerging
Transform to "Focus" in 3 years [Resource Allocation Policy]
Resource allocation to accelerate growth
[Priority Measures]
Expand scale
Examine profit structure
Strengthen marketing
Minimize risk
Create the business(ex. utilize the VC) that adds into Growth area
Asset Replacement and Re-allocation
Accelerate to withdraw from unprofitable business, solidify management resource that can be reallocated, conduct aggressive growth investment.
Categorize profitable and unprofitable business by using NPV(Net Present Value) and comparing hurdle rate/IRR to accelerate asset replacement.
Reform Profit Structure : Expand and Strengthen Revenue Base
Accelerate Globalization "G6000"
Proactively execute own market strategy in each area.
Elevate group presence by increase in sales.
Aim for *600 Billion Yen of total sales of overseas group
Search and execute growth investment(M&A) that matches with the market strategy of the designated area accelerate the business development to expand business (especially focused in North America).
New market development via strengthened 'out-out' organic ties.
Improve Manufacturing Profitability
As a long term strategy, group manufacturing companies message autonomously, and create a new business based on a scenario agreed upon by manufacturing, development and sales.
To grow focused business by prioritizing and improving mid-term free-cash-flow over the short-term sales profit
To pursue profit structure analysis and management stabilization via effective reduction in cost(improve B/E point)
New product development and placement of the product into market, cultivation of new market and penetrate into high value added filed. e.g. Overseas sales expansion of Trehalose, capital investment of epoxy sheet material, R&D on conductive material for coating and etc.
Creating a scenario and HRD which focuses on overseas market expansion. (Overseas marketing and production)
* The figures on this file are all management accounting data (simple sum)
It is different from the figures disclosed on the consolidated financial statement.
Reform Corporate Culture : Mindset/Strengthen Management Platform
Build Accountability, Responsibility and Risk Awareness
Set mid-term management plan as a goal that proactively achieves and act responsible.
Share Management's Message
Create better communication infrastructure and the entire group collectively strives for the same goal.
Through Monitoring and PDCA
Make full use of dashboard and through monitoring to carry out PDCA cycle to achieve KGI/KPI.
Pursue Efficiency
Eliminate excess/duplication and increase efficiency of the organization/function to improve consolidate SGA ratio by 0.5%
HR Development
Strongly drive HR development to increase group competitiveness and sustainable growth