TOP
 > Unnatural Amino Acids
NAGASE provides unique α-mono- and α,α-disubstituted unnatural amino acids (UNAA) that can open new avenues for drug development and accelerate the development of drug candidates in your pipeline.
NAGASE UNAAs can be supplied in gram to multi-kg and larger quantities manufactured via stereoselective alkylation of glycine or alanine.
NAGASE UNAAs are manufactured without the use of metal catalysts by a safe and environmentally friendly process.
Application of Unnatural Amino Acids
for Pharmaceuticals
Replacement of the α-hydrogen atom of L-α-amino acids with an alkyl substituent results in α,α-disubstituted amino acids has been reported in numerous scientific publications and is seen in APIs and developmental drug candidates. The modification changes the properties of amino acids as follows: 1) increased chemical stability, 2) increased hydrophobicity, 3) restriction of conformational freedom of side chains in amino acids. Incorporation of α,α-disubstituted amino acids into peptides results in the restriction of conformational freedom and increased metabolic stability of the resultant peptides.
Reference:
Tanaka, M. Chem. Pharn. Bull. 2007, 55, 349-358.
Walensky, L. D.; Kung, A. L.; Escher, I.; Malia, T. J.; Barbuto, S.; Wright, R. D.; Wagner, G.; Verdine, G. L. Science, 2004, 305, 1466.
Walensky, L. D.; Bird, G. H. J. Med. Chem. 2014, 57, 6275.
Resistance of a Peptide with α,α-disubstituted Amino Acid against Protease

Incubated at 30 deg in 10% DMSO/0.1 M Pi buffer (pH=8.0) solution
A tryptic digestion assay of an α-methylphenylalanine-containing peptide was carried out to investigate the effect of the replacement of an α,α-dialkylamino acid residue on resistance to protease degradation. The introduction of an α,α-dialkylamino acid residue (α-Methylphenylalanine) to the peptide backbone resulted in greater resistance to protease degradation over 24 hours than the peptide with α-monoalkyl amino acid (phenylalanine). The peptide containing the α,α-dialkylamino acid residue exhibited complete resistance to degradation under the experimental conditions.
Reference:
Matsuyama, K.; Yamamoto, K.; Murakami, S.; Anzai, K. Construction of an unnatural amino acids library through asymmetric alkylation of glycine or alanine ester Shiff-base utilizing Maruoka Catalyst™.
Presented at the 5th International Peptide Symposium, Kyoto, Japan, December 4-9, 2010; P2-204.
Asymmetric Phase-Transfer Reaction with Maruoka Catalyst™ to Synthesize α- Monosubstituted and
α, α-Disubstituted Amino Acids.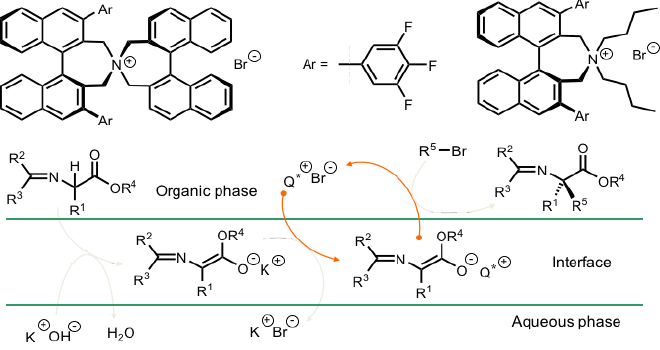 Ikunaka, M. and Maruoka, K. 'Asymmetric Phase-Transfer Catalysts for the Production of Non-Proteinogenic alpha-Amino Acids' in Asymmetric Catalysis on Industrial Scale 2nd edition, Blaser, H-U. and Federsel, H.-J. eds. Wiley-VCH Verlag GmbH & Co. KGaA (2010)
According to the Makosza interfacial mechanism, protected α-amino acid is converted into the potassium E-enolate. Due to the lipophilic nature of the quaternary ammonium salt it can move easily into the interface layer where cation exchange takes place with the potassium E-enolate. As the si face of the E-enolate is shielded by the molecular cavity of the catalyst, an alkyl halide can only approach the re face of the enolate. This results in the Maruoka Catalyst™ exhibiting high reactivity and selectivity of the alkylation process.
Reference:
Ooi, T., Kameda, M., and Maruoka, K. J. Am. Chem. Soc., 2003, 125, 5139-5151.
Ooi, T., Kameda,M., Tannai, H., and Maruoka, K. Tetrahedron Lett., 2000, 41, 8339-8342.
Ooi, T., Takeuchi.,M., and Maruoka, K. Synthesis 2001, 1716-1718.
Maruoka, K. Org. Process Research & Development 2008, 12, 679-687.
Patents:
USP 6,340,753; 6,441,231; 7,928,224; 8,110,680; 8,252,952; 8,263,798; 8,614,316; 8,697,910; 8,716,524; 8,722,919
JP 4,217,085; 4,502,293; 4,605,606; 4,802,191; 4,879,896; 5,008,553; 5,108,777; 5,244,149; 5,344,523
CA 2,549,431; 2.610,776;
SG 139,249; 149,879
IN 252,017; 260,006
CN ZL200580003716.6; ZL200680027800.6 Trade Mark:
Maruoka Catalyst is the registered trade mark in Japan, US, UK, Germany and France.
Library of Unnatural amino acids

Reactive Amino Acids ( α-Alkenyl or α-Alkynyl Glycines and Alanines )
α-AlkenylAla
335438
(S)-α-Allylalanine•H2O (≥ 98.0%, ≥ 98.0%ee)
[CAS No.96886-55-4]
C6H11NO2•H2O = 147.17
335437
(R)-α-Allylalanine•H2O (≥ 98.0%, ≥ 98.0%ee)
[CAS No.96886-56-5]
C6H11NO2•H2O = 147.17

358028
(S)-N-Fmoc-α-Allylalanine (≥ 98.0%, ≥ 98.0%ee) (refrigerated transport)
[CAS No.288617-71-0]
C21H21NO4 = 351.40
Containing 20-50% Methyl tert-butyl ether
358027
(R)-N-Fmoc-α-Allylalanine (≥ 98.0%, ≥ 98.0%ee) (refrigerated transport)
[CAS No.288617-76-5]
C21H21NO4 = 351.40
Containing 20-50% Methyl tert-butyl ether

354283
(R)-N-Boc-α-Allylalanine ethyl ester (≥ 98.0%, ≥ 98.0%ee)
[CAS No.1263046-12-3]
C13H23NO4 = 257.33

365023
(S)-N-Fmoc-α-(4-Pentenyl)alanine (≥ 98.0%, ≥ 98.0%ee) (refrigerated transport)
[CAS No.288617-73-2]
C23H25NO4 = 379.46
Containing 20-50% of Methyl tert-Butyl ether
364440
(R)-N-Fmoc-α-(4-Pentenyl)alanine (≥ 98.0%, ≥ 98.0%ee) (refrigerated transport)
[CAS No.288617-77-6]
C23H25NO4 = 379.46
Containing 20-50% of Methyl tert-Butyl ether

411751
(S)-α-(4-Pentenyl)alanine tert-butyl ester p-Nitrobenzoate (≥ 98.0%, ≥ 98.0%ee)
[CAS No.1323987-70-7]
C12H23NO2•C7H5NO4= 380.44
411752
(R)-α-(4-Pentenyl)alanine tert-butyl ester p-Nitrobenzoate (≥ 98.0%, ≥ 98.0%ee)
[CAS No.1323987-68-3]
C12H23NO2•C7H5NO4= 380.44

364441
(S)-N-Fmoc-α-(7-Octenyl)alanine (≥ 98.0%, ≥ 98.0%ee) (refrigerated transport)
[CAS No.288617-75-4]
C26H31NO4 = 421.54
Containing 10-40% of Methyl tert-butyl ether
363955
(R)-N-Fmoc-α-(7-Octenyl)alanine (≥ 98.0%, ≥ 98.0%ee) (refrigerated transport)
[CAS No.945212-26-0]
C26H31NO4 = 421.54
Containing 10-40% of Methyl tert-butyl ether

411915
(S)-α-(7-Octenyl)alanine tert-butyl ester p-Nitrobenzoate (≥ 98.0%, ≥ 98.0%ee)
[CAS No.1375908-92-1]
C15H29NO2•C7H5NO4= 422.52
388630
(R)-α-(7-Octenyl)alanine tert-butyl ester p-Nitrobenzoate (≥ 98.0%, ≥ 98.0%ee)
[CAS No.1375904-22-5]
C15H29NO2•C7H5NO4= 422.52
α-AlkynylAla
339271
(S)-α-Propargylalanine (≥ 98.0%, ≥ 98.0%ee)
[CAS No.1231709-27-5]
C6H9NO2 = 127.14
339270
(R)-α-Propargylalanine (≥ 98.0%, ≥ 98.0%ee)
[CAS No.403519-98-2]
C6H9NO2 = 127.14

358026
(S)-N-Fmoc-α-Propargylalanine (≥ 98.0%, ≥ 98.0%ee) (refrigerated transport)
[CAS No.1198791-58-0]
C21H19NO4 = 349.39
Containing 20-50% Methyl tert-butyl ether
358029
(R)-α-(7-Octenyl)alanine tert-butyl ester p-Nitrobenzoate (≥ 98.0%, ≥ 98.0%ee)
[CAS No.1198791-65-9]
C21H19NO4 = 349.39
Containing 20-50% Methyl tert-butyl ether

385412
(S)-N-Fmoc-α-(4-Pentynyl)alanine (≥ 98.0%, ≥ 98.0%ee) (refrigerated transport)
[CAS No.1050501-65-9]
C23H23NO4 = 377.44
Containing 20-50% of Methyl tert-butyl ether
385411
(R)-N-Fmoc-α-(4-Pentynyl)alanine (≥ 98.0%, ≥ 98.0%ee) (refrigerated transport)
[CAS No.1198791-56-8]
C23H23NO4 = 377.44
Containing 20-50% of Methyl tert-butyl ether

468736
(R)-N-Fmoc-α-(5-Hexynyl)alanine (≥ 98.0%, ≥ 98.0%ee) (refrigerated transport)
[CAS No.1198791-69-3]
C24H25NO4 = 391.47
Containing 5-40% of Methyl tert-butyl ether
α-AlkenylGly
345277
(S)-α-Allylglycine (≥ 98.0%, ≥ 98.0%ee)
[CAS No.16338-48-0]
C5H9NO2 = 115.13
345276
(R)-α-Allylglycine (≥ 98.0%, ≥ 98.0%ee)
[CAS No.54594-06-8]
C5H9NO2 = 115.13

354273
(R)-N-Acetyl-α-Allylglycine (≥ 98.0%, ≥ 98.0%ee)
[CAS No.121786-40-1]
C7H11NO3 = 157.17

358025
(S)-N-Boc-α-Allylglycine Dicyclohexylamine salt (≥ 98.0%, ≥ 98.0%ee)
[CAS No.143979-15-1]
C10H17NO4•C12H23N = 396.57

363068
(S)-α-Allylglycine ethyl ester p-Toluenesulfonate (≥ 97.0%, ≥ 98.0%ee)
[CAS No.1231709-21-9]
C7H13NO2•C7H8O3S = 315.39
413726
(R)-α-Allylglycine ethyl ester p-Toluenesulfonate (≥ 97.0%, ≥ 98.0%ee)
[CAS No.1432914-51-6]
C7H13NO2•C7H8O3S = 315.39
α-AlkynylGly
345279
(S)-α-Propargylglycine (≥ 98.0%, ≥ 98.0%ee)
[CAS No.23235-01-0]
C5H7NO2 = 113.12
345278
(R)-α-Propargylglycine (≥ 98.0%, ≥ 98.0%ee)
[CAS No.23235-03-2]
C5H7NO2 = 113.12
α,α-DialkenylGly
462304
N-Fmoc-α,α-Bis(4-pentenyl)glycine (≥ 98.0%)
[CAS No.1068435-19-7]
C27H31NO4 = 433.55
× CLOSE
α-Substituted Alanine derivatives
Alanine (Ala)
328959
(S)-α-Ethylalanine•H2O (≥ 98.0%, ≥ 98.0%ee)
[CAS No.595-40-4]
C5H11NO2•H2O = 135.16
328962
(R)-α-Ethylalanine•H2O (≥ 98.0%, ≥ 98.0%ee)
[CAS No.3059-97-0]
C5H11NO2•H2O = 135.16

358835
(S)-N-Boc-α-Ethylalanine (≥ 98.0%, ≥ 98.0%ee)
[CAS No.151171-11-8]
C10H19NO4 = 217.27
395454
(R)-N-Boc-α-Ethylalanine (≥ 98.0%, ≥ 98.0%ee)
[CAS No.123254-58-0]
C10H19NO4 = 217.27

354274
(S)-N-Fmoc-α-Ethylalanine (≥ 98.0%, ≥ 98.0%ee) (refrigerated transport )
[CAS No.857478-30-9]
C20H21NO4 = 339.39
354275
(R)-N-Fmoc-α-Ethylalanine (≥ 98.0%, ≥ 98.0%ee) (refrigerated transport)
[CAS No.1231709-22-0]
C20H21NO4 = 339.39

472923
(S)-N-Fmoc-α-Methylnorleucine (≥ 98.0%, ≥ 98.0%ee) (refrigerated transport)
C22H25NO4 = 367.45

467664
(S)- N-Fmoc-α-Methyl-β-tert-butyl-alanine (≥ 98.0%, ≥ 98.0%ee) (refrigerated transport)
[CAS No.1934266-56-4]
C23H27NO4 = 381.47

470629
(S)-N-Fmoc-α-Methylcyclohexylalanine (≥ 98.0%, ≥ 98.0%ee) (refrigerated transport)
[CAS No.1934266-55-3]
C25H29NO4 = 407.51
× CLOSE
α-Methyl or α-Ethyl derivatives of natural Amino Acids
Aspartic acid (Asp)
346838
(S)-α-Methylaspartic acid (≥ 98.0%, ≥ 98.0%ee)
[CAS No.3227-17-6]
C5H9NO4 = 147.13
346839
(R)-α-Methylaspartic acid (≥ 98.0%, ≥ 98.0%ee)
[CAS No.14603-76-0]
C5H9NO4 = 147.13

357392
(S)-α-Methylaspartic acid-4-tert-butyl ester (≥ 98.0%, ≥ 98.0%ee)
[CAS No.1217977-71-3]
C9H17NO4 = 203.24
359455
(R)-α-Methylaspartic acid-4-tert-butyl ester (≥ 98.0%, ≥ 98.0%ee)
[CAS No.1231709-25-3]
C9H17NO4 = 203.24

357393
(S)-N-Fmoc-α-Methylaspartic acid-4-tert-butyl ester (≥ 98.0%, ≥ 98.0%ee) (refrigerated transport)
[CAS No.1072845-47-6]
C24H27NO6 = 425.48
Containing ≤10% Methyl tert-butyl ether
359457
(R)-N-Fmoc-α-Methylaspartic acid-4-tert-butyl ester (≥ 98.0%, ≥ 98.0%ee) (refrigerated transport)
[CAS No.1231709-26-4]
C24H27NO6 = 425.48
Containing ≤10% Methyl tert-butyl ether
Asparagine(Asn)
412813
(S)-N-Fmoc-α-Methylasparagine (≥ 98.0%, ≥ 98.0%ee)
[CAS No.1403590-49-7]
C20H20N2O5 = 368.39
412814
(R)-N-Fmoc-α-Methylasparagine (≥ 98.0%, ≥ 98.0%ee)
[CAS No.1403590-50-0]
C20H20N2O5 = 368.39
Cysteine (Cys)
369043
(R)-L-α-Methylcysteine•HCl (≥ 98.0%, ≥ 98.0%ee)
[CAS No.148766-37-4]
C4H9NO2S•HCl = 171.65
388254
(S)-D-α-Methylcysteine•HCl (≥ 98.0%, ≥ 98.0%ee)
[CAS No.151062-55-4]
C4H9NO2S•HCl = 171.65

467668
(R)-L-N-Fmoc-S-Mmt-α-Methylcysteine (≥ 98.0%, ≥ 98.0%ee) (refrigerated transport)
[CAS No.1198791-74-0]
C39H35NO5S = 629.77
Glutamine (Glu)
462535
(S)-N-Fmoc-α-Methylglutamic acid-5-tert-butyl ester (≥ 98.0%, ≥ 98.0%ee) (refrigerated transport)
[CAS No.1072845-48-7]
C25H30NO6 = 440.51
Leucine (Leu)
328961
(S)-α-Methylleucine (≥ 98.0%, ≥ 98.0%ee)
[CAS No.105743-53-1]
C7H15NO2 = 145.20
328960
(R)-α-Methylleucine (≥ 98.0%, ≥ 98.0%ee)
[CAS No.29589-03-5]
C7H15NO2 = 145.20

357394
(S)-N-Fmoc-α-Methylleucine (≥ 98.0%, ≥ 98.0%ee) (refrigerated transport)
[CAS No.312624-65-0]
C22H25NO4 = 367.45
357395
(R)-N-Fmoc-α-Methylleucine (≥ 98.0%, ≥ 98.0%ee) (refrigerated transport)
[CAS No.1231709-23-1]
C22H25NO4 = 367.45

465357
(S)-N-Fmoc-α-Ethylleucine (≥ 98.0%, ≥ 98.0%ee) (refrigerated transport)
[CAS No.1934266-50-8]
C23H27NO4 = 381.47
465358
(R)-N-Fmoc-α-Ethylleucine (≥ 98.0%, ≥ 98.0%ee) (refrigerated transport)
[CAS No.1934266-51-9]
C23H27NO4 = 381.47
Lysine (Lys)
369412
(S)-Nα-Fmoc-Nω-Boc-α-Methyllysine (≥ 98.0%, ≥ 98.0%ee) (refrigerated transport)
[CAS No.1202003-49-3]
C27H34N2O6 = 482.58
369414
(R)-Nα-Fmoc-Nω-Boc-α-Methyllysine (≥ 98.0%, ≥ 98.0%ee) (refrigerated transport)
[CAS No.1315449-94-5]
C27H34N2O6 = 482.58

454268
(S)-Nα-Fmoc-Nω-Alloc-α-Methyllysine (≥ 98.0%, ≥ 98.0%ee) (refrigerated transport)
[CAS No.1934266-47-3]
C26H30N2O6 = 466.53

468644
(S)-Nα-Fmoc-Nω-Mtt-α-Methyllysine (≥ 98.0%, ≥ 98.0%ee) (refrigerated transport)
[CAS No.1859985-15-1]
C42H42N2O4 = 638.81
Ornithine (Orn)
369026
(S)-Nα-Fmoc-Nω-Boc-α-Methylornithine (≥ 98.0%, ≥ 98.0%ee) (refrigerated transport)
[CAS No.1315449-95-6]
C26H32N2O6 = 468.55
369413
(R)-Nα-Fmoc-Nω-Boc-α-Methylornithine(≥ 98.0%, ≥ 98.0%ee) (refrigerated transport)
[CAS No.171860-40-5]
C26H32N2O6 = 468.55

467089
(S)-Nα-Fmoc-Nω-Mtt-α-Methylornithine (≥ 98.0%, ≥ 98.0%ee) (refrigerated transport)
[CAS No.1934266-52-0]
C41H40N2O4 = 624.78
Phenylalanine (Phe)
322901
(S)-α-Methylphenylalanine•H2O (≥ 98.0%, ≥ 98.0%ee)
[CAS No.23239-35-2]
C10H13NO2 •H2O = 197.23
322898
(R)-α-Methylphenylalanine•H2O (≥ 98.0%, ≥ 98.0%ee)
[CAS No.17350-84-4]
C10H13NO2 •H2O = 197.23

366011
(S)-N-Fmoc-α-Methylphenylalanine•3/2H2O (≥ 98.0%, ≥ 98.0%ee)
[CAS No.135944-05-7]
C25H23NO4 •3/2H2O = 428.48
366012
(R)-N-Fmoc-α-Methylphenylalanine•3/2H2O (≥ 98.0%, ≥ 98.0%ee)
[CAS No.152436-04-9]
C25H23NO4 •3/2H2O = 428.48
Proline (Pro)
363402
(S)-N-Boc-α-Methylproline (≥ 98.0%, ≥ 98.0%ee)
[CAS No. 103336-06-7]
C11H19NO4 = 229.28
363401
(R)-N-Boc-α-Methylproline (≥ 98.0%, ≥ 98.0%ee)
[CAS No. 166170-15-6]
C11H19NO4 = 229.28

386844
(S)-N-Fmoc-α-Methylproline (≥ 98.0%, ≥ 98.0%ee)
[CAS No.167275-47-0]
C21H21NO4 = 351.40
386843
(R)-N-Fmoc-α-Methylproline (≥ 98.0%, ≥ 98.0%ee)
[CAS No.1286768-33-9]
C21H21NO4 = 351.40
Serine (Ser)
471548
(S)-N-Fmoc-O-tert-Butyl-α-Methylserine (≥ 98.0%, ≥ 98.0%ee) (refrigerated transport)
[CAS No.914399-98-7]
C23H27NO5 = 397.47
Tryptophan (Trp)
350920
(S)-α-Methyltryptophan•1/2H2O (≥ 98.0%, ≥ 98.0%ee)
[CAS No.16709-25-4]
C12H14N2O2•1/2H2O = 227.26
350921
(R)-α-Methyltryptophan•1/2H2O (≥ 98.0%, ≥ 98.0%ee)
[CAS No.56452-52-9]
C12H14N2O2•1/2H2O = 227.26

359456
(S)-N-Fmoc-N'-Boc-α-Methyltryptophan (≥ 98.0%, ≥ 98.0%ee) (refrigerated transport)
[CAS No.1315449-98-9]
C32H32N2O6 = 540.62
Containing 5% n-Heptane
365299
(R)-N-Fmoc-N'-Boc-α-Methyltryptophan (≥ 98.0%, ≥ 98.0%ee) (refrigerated transport)
[CAS No.220155-72-6]
C32H32N2O6 = 540.62
Containing 5% n-Heptane
Tyrosine (Tyr)
339269
(S)-α-Methyl-4-hydroxyphenylalanine (≥ 98.0%, ≥ 98.0%ee)
(S)-α-Methyltyrosine
[CAS No.672-87-7]
C10H13NO3 = 195.22
339268
(R)-α-Methyl-4-hydroxyphenylalanine (≥ 98.0%, ≥ 98.0%ee)
(R)-α-Methyltyrosine
[CAS No.672-86-6]
C10H13NO3 = 195.22

468643
(S)-N-Fmoc-α-Methyl-4-benzyloxyphenylalanine (≥ 98.0%, ≥ 98.0%ee) (refrigerated transport)
(S)-N-Fmoc-O-Benzyl-α-Methyltyrosine
[CAS No.1283766-46-0]
C32H29NO5 = 507.59

468642
(S)-N-Fmoc-α-Methyl-4-hydroxyphenylalanine (≥ 98.0%, ≥ 98.0%ee) (refrigerated transport)
(S)-N-Fmoc-α-Methyltyrosine
[CAS No.246539-83-3]
C25H23NO5 = 417.46

467091
(S)-N-Fmoc-α-Methyl-4-triphenylmethoxyphenylalanine (≥ 98.0%, ≥ 98.0%ee) (refrigerated transport)
(S)-N-Fmoc-O-Trityl-α-Methyltyrosine
[CAS No.1934266-53-1]
C44H37NO5 = 659.78

387902
(R)-3-Hydroxyphenylalanine (≥ 98.0%, ≥ 98.0%ee)
(R)-m-Tyrosine
[CAS No.32140-49-1]
C9H11NO3 = 181.19

387901
(R)-3-Methoxyphenylalanine•H2O (≥ 98.0%, ≥ 98.0%ee)
(R)-O-Methyl-m-tyrosine
[CAS No.145306-65-6]
C10H13NO3•H2O = 213.23
Valine (Val)
333444
(S)-α-Methylvaline (≥ 98.0%, ≥ 98.0%ee)
[CAS No.53940-83-3]
C6H13NO2 = 131.18
333443
(R)-α-Methylvaline (≥ 98.0%, ≥ 98.0%ee)
[CAS No.53940-82-2]
C6H13NO2 = 131.18

358030
(S)-N-Fmoc-α-Methylvaline (≥ 98.0%, ≥ 98.0%ee) (refrigerated transport)
[CAS No.169566-81-8]
C21H23NO4 = 353.42
Containing ≤10% Methyl tert-butyl ether
358031
(S)-N-Fmoc-α-Methylvaline (≥ 98.0%, ≥ 98.0%ee) (refrigerated transport)
[CAS No.616867-28-8]
C21H23NO4 = 353.42
Containing ≤10% Methyl tert-butyl ether
× CLOSE
α-Methyl substituted Phenylalanines
F-Phe
410325
(S)-α-Methyl-3-fluorophenylalanine (≥ 98.0%, ≥ 98.0%ee)
[CAS No.130855-56-0]
C10H12FNO2 = 197.21
411825
(R)-α-Methyl-3-fluorophenylalanine (≥ 98.0%, ≥ 98.0%ee)
[CAS No.1270184-80-9]
C10H12FNO2 = 197.21

410133
(S)-α-Methyl-4-fluorophenylalanine (≥ 98.0%, ≥ 98.0%ee)
[CAS No.130855-57-1]
C10H12FNO2 = 197.21
410132
(R)-α-Methyl-4-fluorophenylalanine (≥ 98.0%, ≥ 98.0%ee)
[CAS No. 422568-68-1]
C10H12FNO2 = 197.21

365442
(S)-N-Fmoc-α-Methyl-2-fluorophenylalanine (≥ 98.0%, ≥ 98.0%ee)
[CAS No.1172127-44-4]
C25H22FNO4 = 419.45
364680
(R)-N-Fmoc-α-Methyl-2-fluorophenylalanine (≥ 98.0%, ≥ 98.0%ee)
[CAS No.1315449-93-4]
C25H22FNO4 = 419.45

468735
(S)-N-Fmoc-α-Methyl-3-fluorophenylalanine (≥ 98.0%, ≥ 98.0%ee) (refrigerated transport)
[CAS No.1410792-22-1]
C25H22FNO4 = 419.45

386761
(S)-N-Fmoc-α-Methyl-2,6-difluorophenylalanine (≥ 98.0%, ≥ 98.0%ee)
[CAS No.1223105-51-8]
C25H21F2NO4 = 437.44

387097
(R)-α-Methyl-4-trifluoromethylphenylalanine ethyl ester hydrochloride monohydrate(≥ 98.0%, ≥ 98.0%ee)
[CAS No.1315449-99-0]
C13H16F3NO2•HCl•H2O = 329.75

411843
(S)-α-Methyl-4-trifluoromethoxyphenylalanine (≥ 98.0%, ≥ 98.0%ee)
[CAS No. 1269926-90-0]
C11H12F3NO3= 263.22
410538
(R)-α-Methyl-4-trifluoromethoxyphenylalanine (≥ 98.0%, ≥ 98.0%ee)
[CAS No.1269835-58-6]
C11H12F3NO3= 263.22
Br-Phe
322899
(S)-α-Methyl-2-bromophenylalanine•H2O (≥ 98.0%, ≥ 98.0%ee)
[CAS No.1212180-27-2]
C10H12BrNO2•H2O = 276.13
322894
(R)-α-Methyl-2-bromophenylalanine•H2O (≥ 98.0%, ≥ 98.0%ee)
[CAS No.1212307-90-8]
C10H12BrNO2•H2O = 276.13

328956
(S)-α-Methyl-3-bromophenylalanine•H2O (≥ 98.0%, ≥ 98.0%ee)
[CAS No.1212117-73-1]
C10H12BrNO2•H2O = 276.13
328957
(R)-α-Methyl-3-bromophenylalanine•H2O (≥ 98.0%, ≥ 98.0%ee)
[CAS No.1212321-90-8]
C10H12BrNO2•H2O = 276.13

322900
(S)-α-Methyl-4-bromophenylalanine (≥ 98.0%, ≥ 98.0%ee)
[CAS No.747397-27-9]
C10H12BrNO2 = 258.11
322897
(R)-α-Methyl-4-bromophenylalanine (≥ 98.0%, ≥ 98.0%ee)
[CAS No.752971-41-8]
C10H12BrNO2 = 258.11
I-Phe
329205
(S)-α-Methyl-3-iodophenylalanine•H2O (≥ 98.0%, ≥ 98.0%ee)
[CAS No.457653-01-9]
C10H12INO2•H2O = 323.13
329207
(R)-α-Methyl-3-iodophenylalanine•H2O (≥ 98.0%, ≥ 98.0%ee)
[CAS No.457652-83-4]
C10H12INO2•H2O = 323.13

329206
(S)-α-Methyl-4-iodophenylalanine (≥ 98.0%, ≥ 98.0%ee)
[CAS No.1215092-16-2]
C10H12INO2 = 305.11
329204
(R)-α-Methyl-4-iodophenylalanine (≥ 98.0%, ≥ 98.0%ee)
[CAS No.213203-06-6]
C10H12INO2 = 305.11
NO2-Phe
333075
(S)-α-Methyl-2-nitrophenylalanine•H2O (≥ 98.0%, ≥ 98.0%ee)
[CAS No.1241680-71-6]
C10H12N2O4•H2O = 242.23
333080
(R)-α-Methyl-2-nitrophenylalanine•H2O (≥ 98.0%, ≥ 98.0%ee)
[CAS No.1241680-73-8]
C10H12N2O4•H2O = 242.23

333078
(S)-α-Methyl-3-nitrophenylalanine•H2O (≥ 98.0%, ≥ 98.0%ee)
[CAS No.1215092-14-0]
C10H12N2O4•H2O = 242.23
333076
(R)-α-Methyl-3-nitrophenylalanine•H2O (≥ 98.0%, ≥ 98.0%ee)
[CAS No. 1215092-13-9]
C10H12N2O4•H2O = 242.23
4-Ph-Phe
335436
(S)-α-Methyl-β-(4-biphenyl)alanine•H2O (≥ 98.0%, ≥ 98.0%ee)
[CAS No.1231709-24-2]
C16H17NO2•H2O = 273.33
× CLOSE