The Nagase Application Workshop (NAW) is home to specialized equipment and expert staff capable of conducting raw materials analysis, application development, and final product formulation for plastics and coating materials. This organization is responsible for technological development, incubation, and technological training. The NAW continues to pursue surface decoration and functional properties in the fields of plastics and coatings.
Overview of Labs at the Nagase Application Workshop
PLASTICS
Formula design by expert technicians, test production of compounds (mainly via twin-screw extruder), test production of molded plastic products (via injection molding), physical property assessment using various evaluation equipment
Equipment
Twin-screw extruders (15mm/18mm/26mm)
Henschel mixers
injection molding machines (80t and 110t)
T die extruder
press molder
analytical equipment (thermal analysis, FT-IR, etc.)
physical property measurement equipment (tensile strength, bending, shock testing equipment, HDT testers, etc.)
computer color matching system (CCM)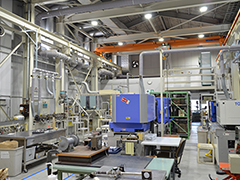 Coating Materials
Coating and ink formulation by expert technicians, test production of coatings and inks using various processing equipment, physical property assessment using various evaluation equipment.
Equipment
Dry type paint booths
Disperser (paint conditioner, horizontal/vertical bead mill)
UV curing system drying ovenn
Environment testing equipment (xenon WOM, SUV weathering test equipment, salt spray test equipment, constant temperature/humidity oven, etc.)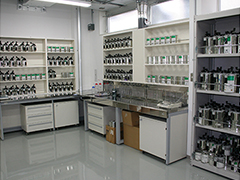 Multipurpose Laboratory
The NAW serves as an incubator for new business development within the NAGASE Group, receiving expert staff from divisions and affiliated companies on a temporary basis. This increases the speed of business development through the effective use of technical support available through NAW facilities and staff.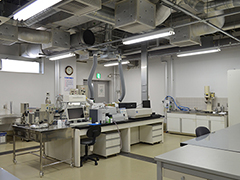 Nagase Application Workshop Introduction movie