The Nagase Application Workshop (NAW) is home to specialized equipment and expert staff capable of conducting raw materials analysis, application development, and final product formulation for plastics and coating materials. This organization is responsible for technological development, incubation, and research. Through its technological development function, NAW combines the materials and processing technologies from Group manufacturing companies and other business partners to propose innovative solutions that meet the needs of customers and the market, after these needs have been identified by the NAGASE Group marketing function. This is just one way in which NAGASE proves itself to be a unique evolution of the traditional trading company model of business.
Overview of Labs at the Nagase Application Workshop
PLASTICS
Formula design by expert technicians, test production of compounds (mainly via twin-screw extruder), test production of molded plastic products (via injection molding), physical property assessment using various evaluation equipment
Equipment
Henschel mixers
Injection molding machines (80 t and 110 t)
Analytical equipment (thermal analysis equipment, FT-IR, etc.)
Physical property measurement equipment (tensile strength, bending, shock testing equipment, HDT testers, etc.)
CCM (computer color matching system)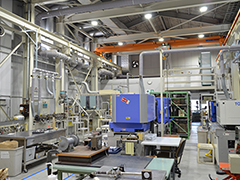 Coating Materials
Coating and ink formulation by expert technicians, test production of coatings and inks using various evaluation equipment, physical property assessment using various evaluation equipment.
Equipment
Dry type paint booths
Disperser (paint conditioner, horizontal, vertical bead mill)
UV curing system, drying oven
Environment testing equipment (xenon WOM, SUV weathering testequipment, salt spray test equipment, constant temperature/humidity oven, etc.)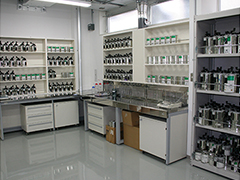 Multipurpose Laboratory
The NAGASE Group is engaged in development in a variety of fields, including compounding technologies (plastic, coating, ink, etc.), materials technologies (dyes, additives, fillers, etc.), and printing technologies (color, surface treatment, etc.). With respect to these technologies in particular, the Group assigns technical staff from other departments, related companies, and affiliates to work in the NAW multipurpose laboratory. In this way, the Group makes more effective use of technical support provided by NAW facilities and staff, leading to faster development speed.