Basic Approach to Chemicals Management
The safe handling of chemicals is an important foundation underpinning the NAGASE Group's businesses. At NAGASE, we continue to improve product-related compliance and centralized information management, including management of chemical products. All the products we deal in are subject to our management system. This allows us to comply properly with any laws or regulations that affect our products.
Initiatives for responsible care
Our Company participates in the Responsible Care (RC) Committee, an operational committee of the Japan Chemical Industry Association. We promote responsible care activities, which are voluntary activities for ensuring the environment, health, and safety in all processes of chemical products, from development to manufacturing, distribution, use, final consumption, and disposal, to disclose the results of these activities, and to engage in dialogue and communication with society.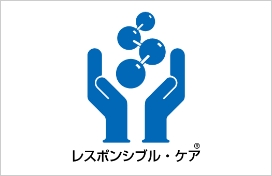 Targets and progress
Disclosure item
Target item
Boundary
Targets for FY2020
Results for FY2020
Chemical management
Management system to appropriately respond to relevant laws and regulations
Group
Qualitative:
In line with the NAGASE Group's Basic Approach to Chemical Management, we will strengthen product-related legal management, including chemical management, promote centralized information management, and establish a management system that appropriately responds to related laws and regulations for all products handled by the Group.
Qualitative:
Achievement
Specific response mechanism
In handling new products, the NAGASE Group checks relevant laws and regulations based on their chemical constituents and standard performance. By registering each ingredient, we are able to comply with relevant laws and regulations ascribed to the ingredients in each country. These product data are registered in the aforementioned comprehensive product management system, and efforts are being made to centralize management for the entire Group. In addition to obtaining the latest information on chemical regulations through our membership in related organizations, we strive to provide accurate information to related parties by using tools such as chemSHERPA, a tool for sharing information on chemical substances contained in products throughout the supply chain.
Responding to Global Chemical Laws and Regulations
The Strategic Approach to International Chemical Management (SAICM) adopted at the 2002 World Summit on Sustainable Development—also known as the Johannesburg Summit—is aimed at ensuring that, by the year 2020, chemicals are produced and used in ways that minimize significant adverse impacts on the environment and human health. In accordance with this policy, the entire world is adopting more strict and standardized regulations concerning chemical management. Accordingly, we anticipate global regulatory trends related to chemical management, working with our overseas subsidiaries to educate, provide instructions, and adopt product management systems. In this way, we facilitate the global management of information related to chemical substances to provide accurate, up-to-date information to our business partners.
Measures in Various Countries to Implement SAICM
| Region/Country | Inventory | GHS |
| --- | --- | --- |
| Japan | Chemical Substance Control Law | Industrial Safety and Health Act |
| United States | TSCA | HCS(OSHA) |
| EU | REACH | CLP |
| China | China REACH | Regulations on the Safe Management of Hazardous Chemicals |
| South Korea | K-REACH | Occupational Safety and Health Act |
| Taiwan | Toxic and Chemical Substances of Concern Control Act | Occupational Safety and Health Act |
| ASEAN | Under development in each country | Under development in each country |
The Group's Approved Operations and Products
Manufacture of poisonous and deleterious substances / Import of poisonous and deleterious substances / General sale of poisonous and deleterious substances / Manufacture of pharmaceuticals Categories: packaging, labeling, storage / Sale of pharmaceuticals / Wholesale of veterinary pharmaceuticals / Export of narcotics, etc. / Import of narcotics, etc. / Wholesale and retail of specified narcotics, etc. / Export of psychotropics / Import of psychotropics / Export of stimulants raw materials / Import of stimulants raw materials / Handling of stimulants raw materials / Manufacture and sale of Class II medical devices / Sale of high-pressure gas (type 1) / Sale of high-pressure gas (type 2) / Sale of agrochemicals / Sale of fertilizers / Import of animal feed / Sale of animal feed / Import of feed additives / Sale of feed additives / Sale of liquor / Import of alcohol / Sale of alcohol / Wholesale of salt / Specified sale of salt (import/export) / Construction (installation of machinery and equipment)
Substances subject to PRTR Act
In accordance with the Act on Confirmation, etc. of Release Amounts of Specific Chemical Substances in the Environment and Promotion of Improvements to the Management Thereof (PRTR Act), the NAGASE Group annually notifies the national government of the amount of emissions and transfers to the environment of the designated chemical substances it manufactures or uses.
Data on chemicals management