Basic Approach to Chemicals Management
The safe handling of chemicals is an important foundation underpinning the NAGASE Group's businesses. At NAGASE, we continue to improve product-related compliance and centralized information management, including management of chemical products. All the products we deal in are subject to our management system. This allows us to comply properly with any laws or regulations that affect our products.
Initiatives for responsible care
Our Company participates in the Responsible Care (RC) Committee, an operational committee of the Japan Chemical Industry Association. We promote responsible care activities, which are voluntary activities for ensuring the environment, health, and safety in all processes of chemical products, from development to manufacturing, distribution, use, final consumption, and disposal, to disclose the results of these activities, and to engage in dialogue and communication with society.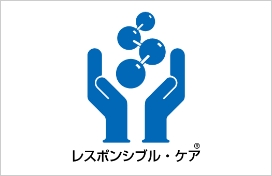 Targets and progress
Disclosure item
Target item
Boundary
Targets for FY2022
Results for FY2022
Chemical management
Management system to appropriately respond to relevant laws and regulations and all chemicals
Group
Qualitative:
In line with the NAGASE Group's Basic Approach to Chemical Management, we will strengthen product-related legal management, including chemical management, promote centralized information management, and establish a management system that appropriately responds to related laws and regulations for all products handled by the Group.
Qualitative:
Achievement
Specific response mechanism
The NAGASE Group checks relevant laws and regulations of all chemicals it handles based on their chemical components and standard performance and manages them in an integrated product management system. By registering each ingredient, we are able to comply with relevant laws and regulations ascribed to the ingredients in each country.
In addition to obtaining the latest information on chemical regulations through our membership in related organizations, we strive to provide accurate information to related parties by using tools such as chemSHERPA※, a tool for sharing information on chemical substances contained in products throughout the supply chain.
※chemSHERPA (Chemical infomation Sharing and Exchange under Reporting Partnership in supply chain) is a data creation support tool released at the initiative of the Ministry of Economy, Trade and Industry for the appropriate operation of information on chemical substances contained in products throughout the entire supply chain. SHERPA (Chemical infomation Sharing and Exchange under Reporting Partnership in supply chain) is a data creation support tool released at the initiative of the Ministry of Economy, Trade and Industry for the purpose of properly operating information on chemical substances contained in products throughout the supply chain. By properly managing chemical substances contained in products and using chemSHERPA data to communicate information on chemical substances, information can be reliably and efficiently communicated.
Responding to Global Chemical Laws and Regulations
Based on the Strategic Approach to International Chemicals Management (SAICM and Post-SAICM), which aims to minimize the adverse effects of the manufacture and use of chemical substances on human health and the environment, new chemical laws and regulations have been established and revised in various countries around the world. Therefore, in response to global trends related to chemical management regulations, we are promoting the systemization, education, and guidance of product management at our overseas subsidiaries as well in order to achieve global management of chemical substance information and provide the latest and accurate information to our business partners.We have developed the "Chemicals Document Management Platform" for centralized management of accurate information provision, and have begun using "DocuValue" in the NAGASE Group as well as starting operation and sales.
Measures in Various Countries to Implement SAICM
| Region/Country | Inventory | GHS |
| --- | --- | --- |
| Japan | Chemical Substance Control Law | Industrial Safety and Health Act |
| United States | TSCA | HCS(OSHA) |
| EU | REACH | CLP |
| China | China REACH | Regulations on the Safe Management of Hazardous Chemicals |
| South Korea | K-REACH | Occupational Safety and Health Act |
| Taiwan | Toxic and Chemical Substances of Concern Control Act | Occupational Safety and Health Act |
| ASEAN | Under development in each country | Under development in each country |
The Group's Approved Operations and Products
Manufacture of poisonous and deleterious substances / Import of poisonous and deleterious substances / General sale of poisonous and deleterious substances / Manufacture of pharmaceuticals Categories: packaging, labeling, storage / Sale of pharmaceuticals / Wholesale of veterinary pharmaceuticals / Export of narcotics, etc. / Import of narcotics, etc. / Wholesale and retail of specified narcotics, etc. / Export of psychotropics / Import of psychotropics / Export of stimulants raw materials / Import of stimulants raw materials / Handling of stimulants raw materials / Manufacture and sale of Class II medical devices / Sale of high-pressure gas (type 1) / Sale of high-pressure gas (type 2) / Sale of agrochemicals / Sale of fertilizers / Import of animal feed / Sale of animal feed / Import of feed additives / Sale of feed additives / Sale of liquor / Import of alcohol / Sale of alcohol / Wholesale of salt / Specified sale of salt (import/export) / Construction (installation of machinery and equipment) / Piping Engineering / Water Facilities Engineering
Gradual reduction and substitution of chemical substances
The NAGASE Group recognizes that the gradual reduction of chemical substances with environmental risks is an important issue and is taking action.
As an example, Nagase ChemteX Corporation, a group manufacturing company, has established an organization dedicated to the management of chemical substances in order to comply with domestic regulations, various laws and regulations such as the EU RoHS Directive, as well as the requirements of the industry and customers. Nagase ChemteX Corporation identifies hazardous substances contained in our company products and raw materials and voluntarily reduces or abolishes the use and discharge of such substances when there are concerns about the environmental risks posed by such substances, thereby reducing the environmental impact of our company products.
Example of a substitute for a substance of risk concern
As a result of the revision of the Poisonous and Deleterious Substances Control Act, some of the raw materials for amine curing agents have been designated as deleterious substances. Nagase ChemteX Corporation offers a range of non-phobic alternative adhesives as part of its Denatite (two-component epoxy adhesive) product lineup.
Reporting / registration of chemical substances
In accordance with the Act on the Assessment of Releases of Specified Chemical Substances in the Environment and the Promotion of Management Improvement (PRTR Act), the Nagase Group notifies the government annually of the amount of specific chemical substances it manufactures and uses released or transferred to the environment.

Globally, we are also registering targeted chemical substances in response to the REACH regulation of the European Chemicals Regulation.
Overview of disclosure of chemical composition information
The NAGASE Group recognizes that providing information on chemical substances is an important issue to ensure safe and secure use of products. Nagase ChemteX Corporation, a group manufacturing company, prepares SDSs for all products based on GHS*1 and the Industrial Safety and Health Act and provides them to customers. The website also discloses ingredient information on products by application and by material. We recognize that these will also improve customer/consumer awareness. We will continue our efforts to enhance the disclosure of ingredient information on products.
※1

GHS:Abbreviation for Globally Harmonized System of Classification and Labelling of Chemicals Internationally harmonized rules for the classification and display of chemicals, including hazards of chemical substances and precautions for handling.
Product Information of Nagase ChemteX Corporation
Examples of initiatives
The NAGASE Group Ranked No. 5 in the Top 100 Chemical Distributors in 2023
The NAGASE Group has been ranked No. 5 in the "Top 100 Chemical Distributors" in 2023 by ICIS (Independent Commodity Intelligence Services), a global provider of market intelligence on chemical products . By region chemical distribution, the company ranks 1st in Asia Pacific. ICIS is a global commodity intelligence provider to the chemical industry, helping businesses across the chemical, fertilizer and energy markets make strategic decisions, mitigate risk and capitalise on new opportunities.
※

This information is excerpted from ICIS products. ICIS does not review or consider any conclusions, recommendations or other views expressed in this document. ICIS makes no warranties, expressed or implied, as to the accuracy, adequacy, timeliness, completeness, or suitability for a particular purpose of its data. To the fullest extent permitted by law, ICIS disclaims any liability related to or resulting from the use of its data and other content.
Operation and sales of "Chemicals Document Management Platform"

The NAGASE Group recognizes the importance of creating a foundation for safe and secure transactions in chemicals management. The NAGASE Group (Nagase & Co., Ltd. and Nagase Information Development Co., Ltd.), together with Japan Chemical Database Co., Ltd., has developed a cloud service that integrates the SDS (Safety Data Sheet) creation tool and the chemical document distribution management tool required for the transfer and provision of chemicals. Japan Chemical Database Ltd. provides the SDS creation tool, applicable law survey tool, and chemical substance content revision notification tool "ChemValue" (to be launched in April 2023), and Nagase Sangyo Co. The service is operated and sold by Nagase Joho Kaihatsu, a software development and maintenance company.In the trade and use of chemicals, we communicate important information on safety and security in the supply chain using documents such as SDSs.
However, the number of chemical documents, as typified by SDSs, is large and the information is updated as product specifications are revised or laws and regulations are amended, making distribution and management cumbersome. "DocuValue" is a distribution management tool specialized for chemical documents that solves these problems. The NAGASE Group introduced and began using DocuValue in October 2022 at 10 companies within the group, and has already begun registering and operating tens of thousands of documents.
Launch of "Chemicals AI Joint Logistics Matching Service,"
the Industry's First Service Specializing in Chemicals Safe and Efficient Transportation of Chemicals
The NAGASE Group recognizes that the sustainability of chemical transportation is an issue. In addition to the recent changes in the external environment, such as the worsening shortage of truck drivers and stricter regulations on the distribution of dangerous goods due to the revision of the Transportation Business Law, the transportation of chemical products is difficult from a safety perspective due to the restriction of mixed loads with general goods cargo and logistics companies are reluctant to handle chemical products due to odor and other problems. Nagase, with its expertise in handling chemicals and its network of chemical manufacturers and logistics companies, has launched the "Chemicals AI Joint Logistics Matching Service" specifically for chemical products. This service utilizes the TranOpt system, an AI joint transport matching service provided by Japan Pallet Rental Corporation. This is the first time in the industry that a joint logistics matching service specifically for chemicals is offered. Unlike conventional services that match shippers with drivers, this service matches shippers with each other, enabling matching for less efficient transportation services that operate on a regular schedule, and is expected to reduce costs and GHG emissions by improving transportation efficiency.

Data on chemicals management