Basic approach to labor practices (NAGASE personnel policy)
In order to realize the spirit of "honesty and justice" set forth in the NAGASE Group management philosophy and a "safe, secure and comfortable society in which people can live comfortably" set forth in the Vision, the Company has established personnel policies consisting of respect for diversity (acceptance and utilization), labor and work environment, human resource development, and evaluation and treatment. In addition, we have established clear policies regarding compliance with local laws regarding working hours and overtime work and reduction of excessive working hours in the Minimum Wage and Living Wage Payment Policy and the Policy for Reducing Long Working Hours.
NAGASE personnel policy
Spreading diversity (acceptance and utilization)
・Promoting diversity to achieve global growth
Labor and work environment
・Providing a healthy work environment from the company and providing high-quality labor from employees
Human resource development
・Respect the desire of each employee to grow independently and support the development of their abilities Evaluation and treatment
Evaluation and treatment
・Promotion of appropriate evaluation and treatment based on credit, reward and punishment
Strengthening human resources to drive change
The mid-term management plan ACE 2.0 indicates that we will improve the engagement of employees and the Company and achieve sustainable growth and development of employees and the Company by implementing each measure in human resources, the environment and culture in a virtuous cycle.
Item
Direction and measures to be taken
Human resources
・Acquisition and development of superior human resources
・Place the right people in the right place (talent management)
・Healthful management
Environment
・Creating an office where employees can demonstrate their creativity
・Working style reform
Culture
・Promoting diversity and inclusion
・Fostering a culture and climate where diverse individuals can shine and continue to take on challenges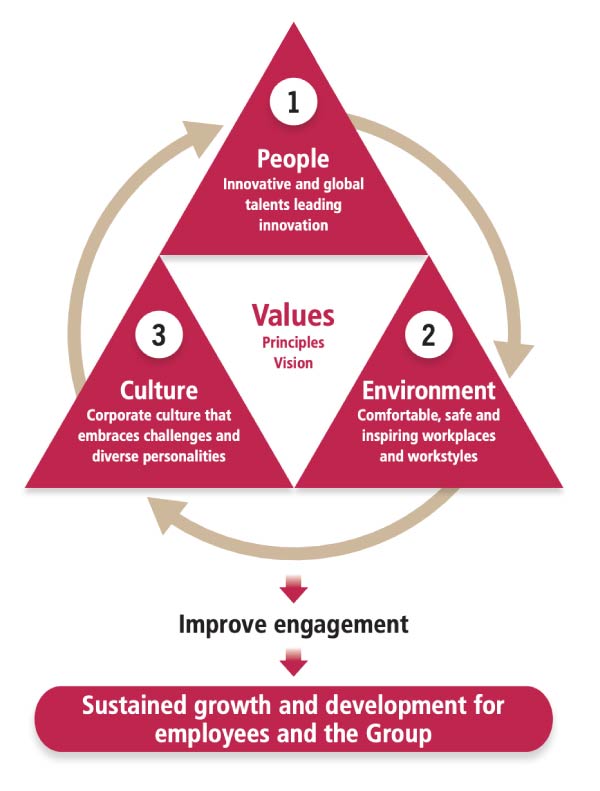 Policy for reducing long working hours
NAGASE & CO., LTD. has established a clear policy for reducing long working hours in its Policy and Guidelines for Safety and Health, and Health Promotion. To prevent health problems caused by long working hours, the Company requires employees who work long hours to see an industrial physician, who provides advice and guidance to employees and the Company. Employees and the Company shall observe this and endeavor to avoid long working hours.
Interrelationship of personnel systems
In the human resources system, various systems are regulated according to management policies and plans, performance and job level. Each system is interrelated.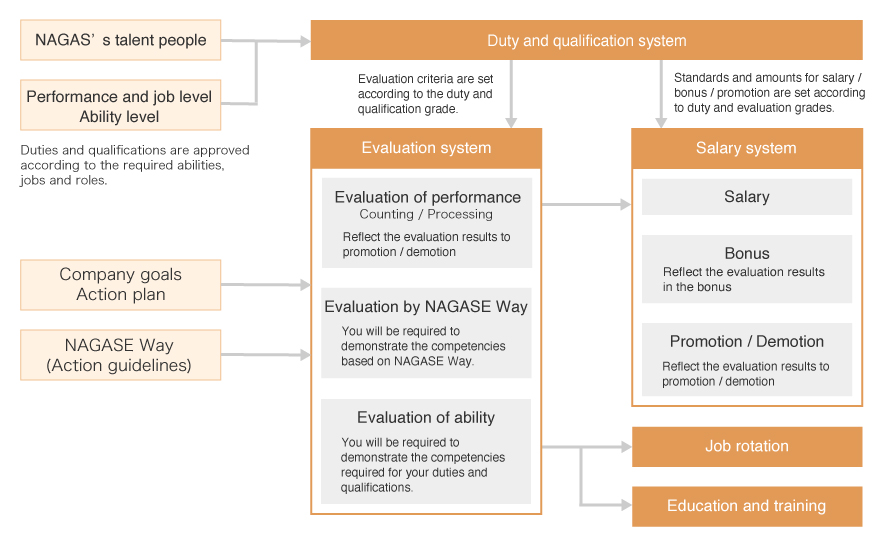 Minimum wage and living wage payment policy
NAGASE & CO., LTD. conducts labor management in compliance with the labor laws and regulations of each country. In terms of wages, the basic policy is not only to comply with the minimum wage regulations in each country, but also to pay wages in excess of the minimum wage. The average annual salary in our Company in FY2020 was 9.71 million yen.
Policy on labor-management relations and labor issues
In labor-management consultations, we have set up a forum for labor-management consultations to share information between the labor side and management side on issues such as working conditions and the working environment to resolve these issues. In accordance with the labor laws of each country, we also strive to strictly adhere to minimum wages and total working hours, provide safe and hygienic workplaces, and build good labor-management relations with labor unions at our overseas sites.
Employee engagement
In our mid-term management plan ACE 2.0, we place a high priority on employee engagement, and we are working on the Employee Engagement Improvement Project under the guidance of Sustainability Committee. We are working to formulate target KPIs for the new medium-term management plan.
Diversity
Basic Stance on Diversity
The NAGASE Group believes that diversity is an important part of overall corporate strategy. To nimbly respond to changes in the environment, we need to ensure we have human resources with a wide variety of ideas and perspectives, both in Japan and overseas. Having a diverse range of employees encourages more dynamic discussions and leads to new ideas that become the source of competitive advantage in the market. This in turn leads to the growth of both the NAGASE Group and each individual employee.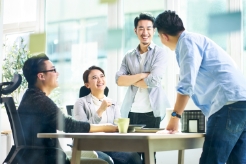 Themes for Diversity Promotion
Our diversity initiatives began in earnest in fiscal 2008 with the launch of the Diversity Promotion Committee. During fiscal 2017, we took the opportunity to think about the future of diversity in the NAGASE Group under the banner of developing a roadmap based on our vision of the future. We began creating a roadmap to carry us through the medium term. We continue to promote diversity within our organization through strong management directives, group training, and other initiatives.
Diversity Initiatives
1. Internal education
1) Periodic messages from top management and broadcasts of related information
2) Instill the NAGASE Management Philosophy, NAGASE Vision, and NAGASE Way deeply into NAGASE Group employees
2. Diversity in organizations and individuals
3) Improve global communications
4) Support employees' career development
5) Continue employing non-Japanese people and women as main career track staff and improve our corporate culture
3. Develop good places to work
6) Instill awareness and activate initiatives for continuity and productivity improvements
7) Support employees who are dealing with home care or other challenges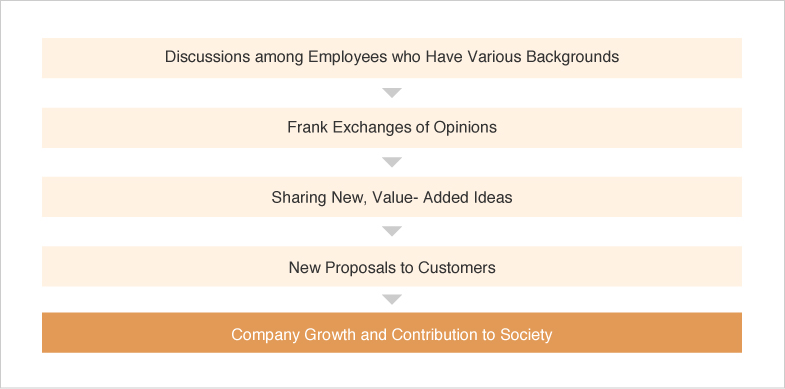 Hiring People with Disabilities
The NAGASE Group strives to create a work environment where everyone can thrive together, regardless of whether they have a disability or not. We respect the capabilities of each employee, and foster an environment where they can excel with reasonable accommodation for disabilities.
Please click here for the employment rate of persons with disabilities in our Company for the fiscal year ended March 2021.
Posting Non-Japanese Employees to Core Positions
The Group is expanding its business in various countries and regions around the globe. Based on the basic approach of respecting the diversity of employees' ideas and perspectives, we are posting outstanding non-Japanese employees to core positions in accordance with the needs of each country, region, and company.
Empowering Women in the Workplace
The NAGASE Group believes empowering female employees to be an important initiative for promoting diversity. We have been actively leveraging the power of our female workforce in business, by hiring more women in core roles, promoting more women to management, and expanding their career opportunities. We are also focused on fostering an environment where women can promote work life balance and continue their career, by enhancing the support for employees with child rearing and caregiving needs. Although the number of women in management has improved, it is still an ongoing challenge for us to achieve further increases. The proportion of women among all employees is also not high, so we will continue to improve the situation by increasing the number of women's employment.
Our Benefit Programs for Promoting Work-Life Balance
| Program | Overview |
| --- | --- |
| Maternity leave | Leave from six weeks before giving birth to eight weeks after the birth |
| Parental leave | Leave for raising children (for both male and female employees) |
| Time off for childcare | Time off for nursing sick/injured children |
| Reduced working hours for child-rearing | Reduction of working hours for employees with child-rearing needs |
| Shift work system for childcare | Employees who are allowed to work shifts for childcare |
| Time off for caregiving | Time off for caregiving for a family member |
| Caregiving leave | Leave for caregiving for a family member |
| Reduced working hours for caregiving | Working hours reduced for employees with caregiving needs |
| Shift work system for nursing care | Employees who are allowed to work shifts for nursing care |
Compliance with international standards on labor
The NAGASE Group supports the basic principles of the Universal Declaration of Human Rights, the OECD Guidelines for Multinational Enterprises, and the four labor principles of the United Nations Global Compact, and guarantees basic labor rights to its employees. It also supports freedom of association and the union's ownership of the three rights of labor: the right to organize, the right to collective bargaining, and the right to collective action.
Efforts on labor issues
Preventing child labor and forced labor
The NAGASE Group has not used any child labor or forced labor to date. In addition, in order to prevent the occurrence of child labor and forced labor in the future, we are thoroughly observing laws and regulations in each country and conducting regular monitoring.
Mechanism for involving employee representatives in corporate management
As a mechanism for dialogue between employee representatives and the Company, NAGASE & CO., LTD. aims to achieve an appropriate working environment and working conditions between the labor side and management side through dialogue several times a year.
Reducing long working hours
NAGASE & CO., LTD. discloses the average number of overtime hours worked and the cumulative amount of overtime pay by division on its internal website to make overtime work more visible. The Human Resources and General Affairs Division supports the formulation of action plans for divisions where overtime work has become a chronic problem, and also works with the Health Committee to make company-wide efforts to reduce overtime work.
Report on violations of labor standards
There were no violations of the Labor Standards Act at NAGASE & CO., LTD. (non-consolidated) in FY2020.
Local employment and local procurement
The NAGASE Group believes that employment creation by hiring local employees and local procurement play an important role in building good relationships with various countries and regions where we operate and in contributing to local economies and communities. Based on this concept, we will promote local employment creation and local procurement to contribute to the development of various countries and regions where we operate.