Occupational Health and Safety
Approach to Occupational Health and Safety
The NAGASE Group's basic philosophy is respect for people in all its business activities, and we regard occupational safety and health as one of the important prerequisites for promoting business activities. By actively implementing occupational safety and health activities, we are promoting activities aimed at continuous improvement, the creation of safe, bright, and comfortable workplaces, and zero accidents and disasters.
Please refer to"2. Protection of human rights of employees" in the Basic Procurement Policy for the occupational health and safety policy regarding stakeholders in the supply chain.
Basic Occupational Health and Safety Policy
The NAGASE Group and each of its employees,all stakeholders, including employees and contractors work together to ensure a safety-first work environment without any accidents or incidents.
We shall strive to eliminate the seeds of injury and illness from the workplace in building an environment where employees may work assured of their health and safety.
We focus particularly on prevention against global health phenomena such as HIV/AIDS, tuberculosis, and malaria.
We shall comply with all laws and regulations related to occupational health and safety, as well as any concurring requirements.
This policy shall form the target for activity development and execution, with regular reviews to continuously improve the methods and results of our activities.
We shall invest management resources appropriately based on resolutions of the Board of Directors in order to effectively leverage occupational health and safety management systems.
Promotion System for Occupational Health and Safety, and Health and Productivity Management
In the NAGASE Group, the director in charge of occupational health and safety management is appointed as the chief executive officer. The Human Resources and General Affairs Department organizes each organization that is responsible for the management of occupational health and safety, and the director in charge reports to the Board of Directors as the chief executive officer.
Ensuring the health and safety of its employees across all workplaces is a key responsibility for the NAGASE Group as a corporate entity.
We shall strive to construct an all-encompassing system for health management and responses to emergency situations (e.g. accidents, incidents, disasters) so that employees may be reassured that they can work safely, in the hope that all employees in our domestic and overseas workplaces, and their families, are safe and healthy.
Further, as it pertains to accident risk at production sites, we shall implement a number of measures in our health and safety activities, including implementing initiatives based on specific situations at each site, in order to prevent workplace injuries to the fullest extent. In the event that injury occurs, we shall act swiftly to respond and also use the incident as a learning opportunity, taking a variety of measures to improve our level of health and safety management.
The committee meets monthly to discuss health-related issues and to improve the workplace environment, including workplace inspections, with advice from occupational physicians. The committee also analyzes the results of stress checks and medical examinations in order to improve the health and working environment of the employees.
System chart for promoting occupational safety and health and healthful management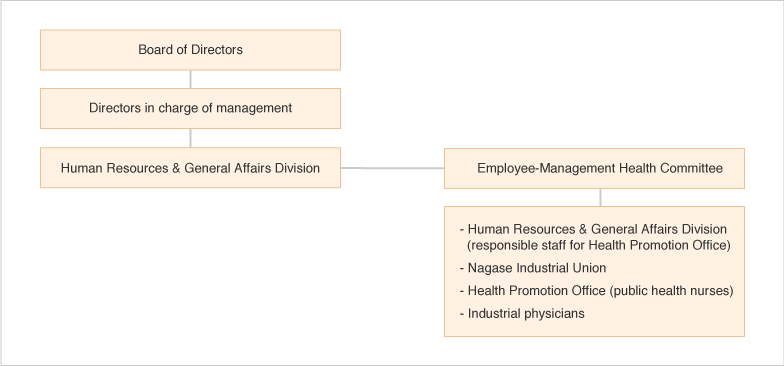 Group Manufacturing Industry Cooperation Committee and Labor Safety Subcommittee
The Labor Safety Subcommittee of the Group Manufacturing Industry Cooperation Committee promotes the labor safety activities of the NAGASE Group by disseminating information through the promotion of safety and health diagnoses and follow-up diagnoses (at least once a year), improvement of on-site capabilities such as lectures and training, and sharing information on occupational accidents.
Safety and health diagnoses and follow-up diagnoses
At the Labor Safety Subcommittee, external consultants conduct safety and health examinations in turn at each company. (Three companies for FY2022) In addition, we are working to ensure that the PDCA (Plan-Do-Check-Action) in occupational health and safety activities works by conducting follow-up audits of companies that conducted safety and health examinations before the previous fiscal year and confirming their improvement status.
Safety and health diagnoses by occupational safety consultants (Nagase ChemteX Corporation)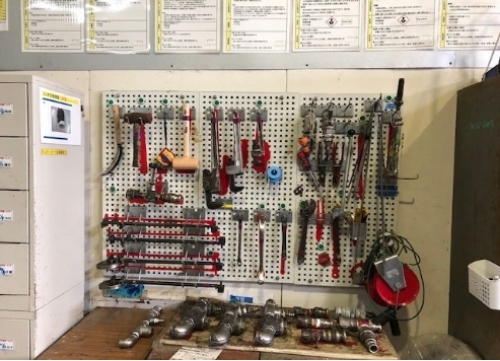 Organizing tools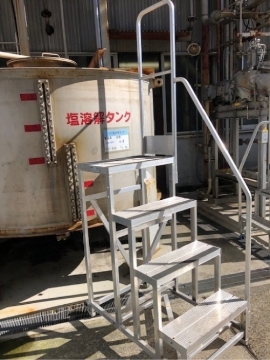 Handrail installation at work steps
Training at the Nagase ChemteX Corporation Safety Experience Training Center
The safety experience training includes lectures with examples of occupational accidents, as well as the experience of dust explosions and V-belt entrapment using the experience equipment, providing opportunities to learn the importance of safety. In fiscal 2022, 82 employees from nine companies participated.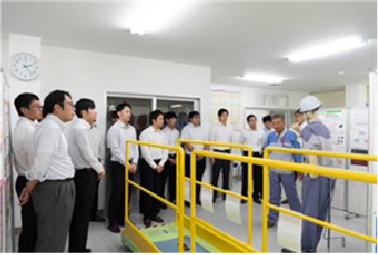 Occurrence of occupational accidents
The causes of occupational accidents in FY2022 included cuts and burns: six cases; falls, pinching, crashes, and bruises: seven cases; and exposure to liquid: one cases. The Group Manufacturing Industry Cooperation Committee is working to prevent the recurrence of similar accidents by sharing examples of work-related accidents (details, causes, and countermeasures) within the group in a timely manner and calling attention to them. In addition, by classifying and analyzing the factors that cause the occurrence of routine and non-routine work, we help to prevent industrial accidents and improve sensitivity to hazards so that essential improvements can be made. In addition, the Committee promotes group cooperation in human resource development such as training for managers, the development of equipment and infrastructure, support for ISO 45001 initiatives, and the sharing of examples from other companies.
Objectives of occupational safety and health
Boundary
Targets for FY2022
NAGASE Group (Regular employees, contract employees, commissioned employees, etc.)
Quantitative:
Number of occupational accidents: zero
Frequency rate: maintain 1.00 or less
Frequency of work-related accidents: 1.00 or less (by FY2023)
ISO 45001 certification
The NAGASE Group has obtained ISO 45001 certification, mainly for its manufacturing group companies.
Nagase and domestic affiliates
Affiliate
ISO45001
Occupational safety and health
CAPTEX Co., Ltd.
○
Nagase ChemteX Corporation/Harima/Sakai
○
| | |
| --- | --- |
| Percentage of certification in FY2022(Domestic manufacturing sales profit base) | 31.10% |
Nagase ChemteX Corporation
Fukuchiyama Office receives the Encouragement Award from the Minister of Health, Labour and Welfare for an excellent workplace, organization, or person of meritorious service in relation to safety and health
The Fukuchiyama Office of Nagase ChemteX Corporation received the Encouragement Award from the Minister of Health, Labour and Welfare for an excellent workplace, organization, or person of meritorious service in relation to safety and health in 2022. The Encouragement Award is given to business sites that have achieved an excellent level of safety and health and are recognized as a model for others, following the Excellence Award (17 business sites). Fifteen businesses, including the Fukuchiyama Office of Nagase ChemteX Corporation, have received the Encouragement Award. The Fukuchiyama Office has been accident-free for 17 years and eight months since January 23, 2003, with the exception of accidents without lost workdays*. In March 2022, it was awarded a Class 3 Certificate of No Accident Record from the Ministry of Health, Labour and Welfare.
※

An accident that occurred on the job, for which the employee received medical treatment at a medical institution, etc. and has not lost a day of work since the day following the day of the disaster
Health and Productivity Management
The NAGASE Group has formulated and announced the NAGASE Health Declaration to support the maintenance and improvement of the health of Group employees and is promoting this declaration. This concept applies not only to Group employees but also to all stakeholders involved in corporate activities.
NAGASE Health Declaration
The NAGASE Group seeks to realize a sustainable society where people can live with peace of mind. To that end, it is of the utmost importance to ensure that the Group's key assets - its employees and their families - are healthy, both in body and mind. The Group encourages measures for maintaining and promoting the health of each employee, with the Representative Director and President of NAGASE & CO., LTD. at the top.
For example, the Health & Safety Committee, which meets every month, focuses on "flexible work styles," "encouraging employees to take paid leave," and "improving the work environment," and discusses how to create a more comfortable work environment for employees through joint labor-management efforts, utilizing the results of questionnaires on the workplace and working environment.
Policy for reducing long working hours
Policy and guidelines for safety and health and health promotion
NAGASE & CO., LTD. has established and is implementing the following policy and guidelines for safety and health and health promotion to reduce long working hours.
Purpose of policy and guidelines for safety and health and health promotion
Employees: maintain and manage their own health to work physically and mentally and provide sound labor.
Company: support employee to ensure safety and health by promoting safety and health and health promotion activities.
Measures and specific initiatives
Medical support for employees stationed abroad
The NAGASE Group has business operations around the world, and we recognize the importance of addressing the three major global health problems: HIV, tuberculosis, and malaria. Employees stationed abroad are required to undergo pre-assignment medical examinations and vaccinations, health examinations during assignment, and medical examinations after returning to Japan in accordance with the overseas employee regulations.
Strengthening promotion of the Quit Smoking Challenge
The World Health Organization (WHO) has made a theme of the relationship between COVID-19 and tobacco, and there has been a worldwide increase in public awareness of the need to quit smoking and prevent passive smoking. The NAGASE Group promotes the Quit Smoking Challenge for employees and their families. The company subsidizes the actual cost of the outpatient smoking cessation treatment up to a maximum of 20,000 yen until the treatment is completed.
Supporting Physical Health
Health examinations (regular physical exams, lifestyle disease exam, periodic checkups, medical exams for overseas assignees, including employees returning temporarily or permanently) / Specific Health Checkup and Specific Health Guidance / Cancer examinations / Mail-in cancer examinations / Dental checkups / Influenza vaccinations / Medical treatment and work-balance support / Support for women's health / Distribution/access to household medicines / Family health counseling / Access to Best Doctors service
Supporting Mental Health
Mental health counseling / Mental health training / Job reinstatement support / Stress checks
Health Promotion
NAGASE club activities / In-house massage rooms / Walking events / No Smoking Day / Smoking cessation support / Encourage the use of daycare facilities / Measures to reduce excessive work hours / No Overtime Day (weekly) / Publish overtime hours by department
Implementation of sleep improvement seminar
In August 2022, a sleep seminar was held by S'UIMIN, a startup company from the University of Tsukuba, which was funded by Nagase & Co., Ltd. in December 2021. In recent years, the relationship between sleep and serious diseases such as lifestyle-related diseases and dementia is becoming clear, with some pointing out that changes in lifestyle during the COVID-19 era affect sleep. The seminar also mentioned tips on how to sleep well and other important things to improve concentration and quality of life (QOL), and the content of the lecture was beneficial for improving the quality of sleep of employees.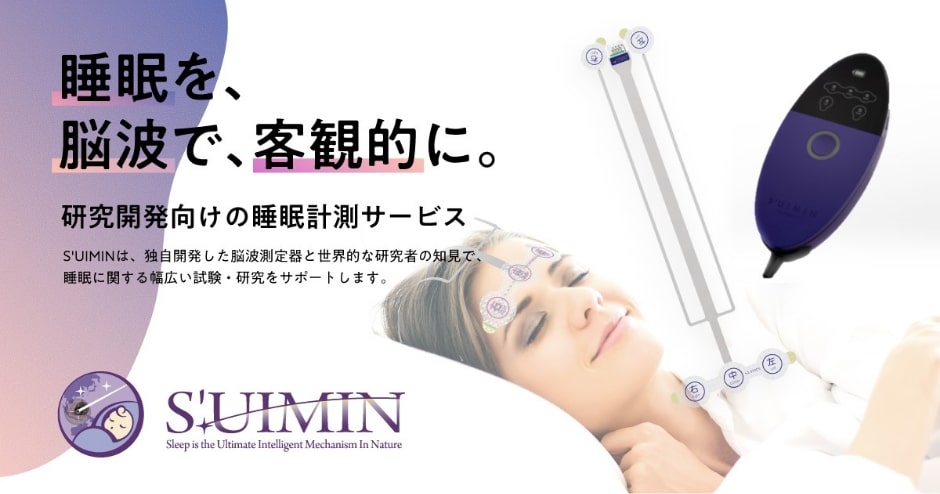 Improve health literacy by using health apps
Health literacy (the ability to find, understand, and use information about health and medical care) is important for promoting health management.Nagase has introduced a health app to improve health literacy through the management of steps, weight, body temperature, sleep, etc., as well as food records and calorie management.
NAGASE Quit Smoking School" established. Efforts to Reduce Smoking Rates
NAGASE established the "NAGASE Quit Smoking School" for smokers. Participants check their progress in quitting smoking and discuss their concerns with each other over a six-month period.The program is designed to lead to complete or substantial smoking cessation.
Measures for Work Style Reforms
To increase the productivity of the Group as a whole, we believe it is important to ensure each employee makes the most of their work hours with priority on productivity and efficiency, and to achieve work-life balance. Based on this idea, we are promoting discussions and taking initiatives aiming at achieving work style reforms.
Our Benefit Programs for Work Style Reforms
| Systems and measures | Overview |
| --- | --- |
| Spouse maternity leave | Leave granted on the day of the spouse's delivery |
| Flexible work | (For employees engaged in research and development) Work methods that allow employees to autonomously determine their own arrival and departure times according to their work schedule. |
| Refresh leave | Leave for employees who have worked for the Company for 15 years to refresh their mind and body. |
| ABW(Activity Based Workplace) | Free address, work in a seat that suits your purpose |
| Hybrid work | Telecommuting (up to 3 days per week), use of satellite offices |
| Dress code | Free Each employee is responsible for autonomously choosing his or her own attire |
| Shift work | Can choose working hours from several shifts |
| Hourly paid leave | Paid time off in increments of one hour can be divided and taken in one-hour increments |
※ Job return system: Enables retired employees to return to work as regular employees.
Various systems and measures to support a balance between private life and work
We are also focusing on fostering a corporate culture in which employees can continue to work by expanding systems and measures to support work-life balance, including childcare and nursing care. In recent years, the number of men taking childcare leave has increased.
Male employees taking parental leave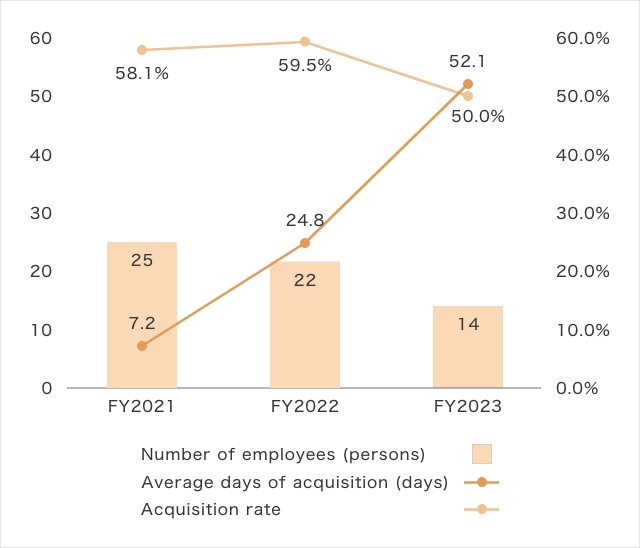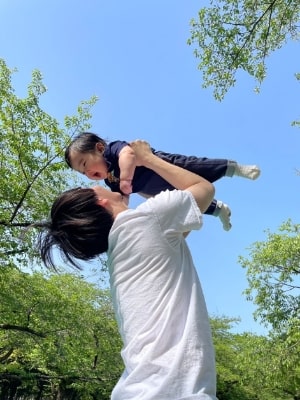 Photo of a man taking parental leave (photo provided by employee)
| Program | Overview |
| --- | --- |
| Maternity leave | Leave from six weeks before giving birth to eight weeks after the birth (Salary/bonus will be paid in full during the vacation period) |
| Parental leave・Postpartum Papa Maternity Leave | Leave for raising children (for both male and female employees) |
| Time off for childcare | Time off for nursing sick/injured children |
| Reduced working hours for child-rearing | Reduction of working hours for employees with child-rearing needs |
| Time off for caregiving | Time off for caregiving for a family member |
| Caregiving leave | Leave for caregiving for a family member |
| Reduced working hours for caregiving | Working hours reduced for employees with caregiving needs |
| Childcare Future Concierge | A service that helps you find a daycare center and obtain useful information about childcare |
| Staggered commuting during pregnancy | During the pregnancy period, staggered work schedules of 45 minutes each are available (no decrease in pay) |
| Nursing time | Time can be taken twice a day for 45 minutes each for childcare (for women with children under 1 year of age) |
Employee Engagement Improvement Project
The NAGASE Group conducts a survey on employee engagement once a year. Among the issues derived from the survey, we have paid particular attention to the perspectives of "dialogue" and "communication", and have been considering how to promote "vertical (intra-divisional) dialogue" and "horizontal (extra-divisional) collaboration" in order to create an environment that is both "proactive" and "proactive" in terms of employee engagement, as well as "proactive" and "proactive" in terms of "communication".
We recognize that the "New Member Meeting" is a high-priority issue. As a concrete measure, in order to expand vertical and horizontal connections among new employees, we hold four-person meetings with senior employees for one hour on Mondays and Fridays, with different combinations.
This policy, which is still in effect as of 2023, has served as a catalyst for new employees to expand their interactions within the company.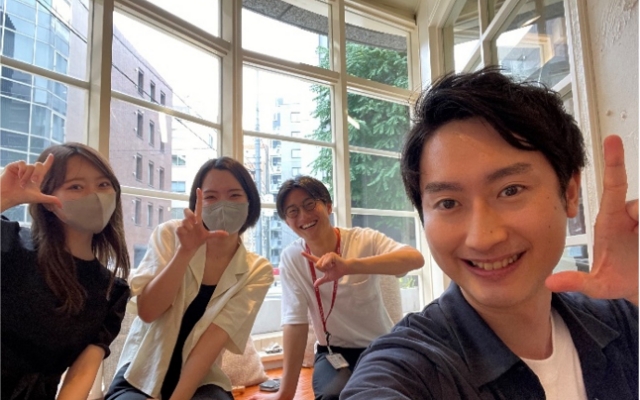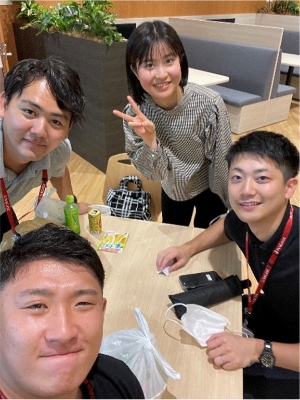 Data on occupational health and safety / health management