Blind Marathon
Shinya Wada
NAGASE Employee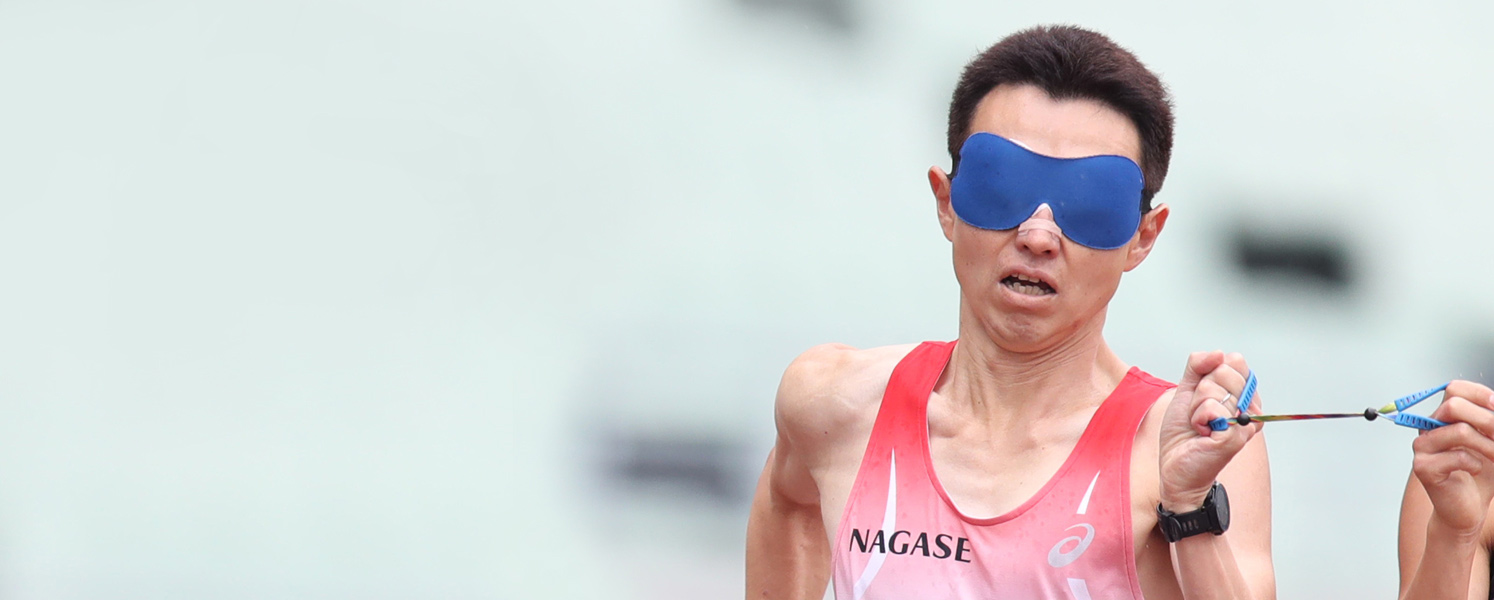 Profile
A visually-impaired long-distance runner from Osaka.
He joined NAGASE in September 2018.
In August 2021, he won a silver medal at 1500m (T11) and a bronze medal at 5000m (T11) at the Tokyo 2020 Paralympic Games.

Diagnosed with retinitis pigmentosa while in high school, he lost his vision completely while in university. Continuing his studies using braille, he went on to graduate school. Later, while working as a full-time employee at a braille library, he joined in practice sessions for a Kyoto running team, which led to him beginning to compete in earnest at the age of 28. Since the 2009 fiscal year, he has been designated as an athlete for focused training by the Japan Blind Marathon Association. He is the Japan record holder for the full marathon (T11), and has received various awards such as an Excellence Award from the Osaka Sports Awards and the Kyoto City Sports Honorary Award. He is engaged in speaking events throughout Japan.

He won bronze in the 5000 m at the 2012 London Paralympics, and placed in the 1500 m, 5000 m, and marathon at the 2016 Rio Paralympics. He came in fourth at the 1500 m (T11) at the 2019 World Para Athletics Championships in Dubai, winning a spot in the Tokyo Paralympics, which will be his third Paralympics in a row.
Story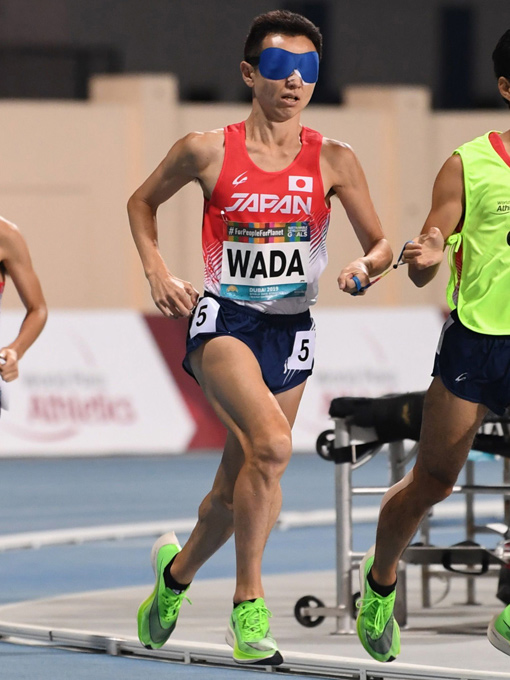 Shinya Wada was diagnosed with retinitis pigmentosa (a disease causing gradual loss of peripheral vision, leading to loss of sight) when in his second year of high school, where he was a member of the rugby team. Having become completely unable to see through acquired vision loss, Wada began running thanks to a meeting with a running team in Kyoto. According to Wada, running does not just make his body and mind healthy, "It allows me to meet new people through interacting with the guide runners and blind runners, making me feel even better, and improving my life." Running is the driving force behind his positive attitude.
Currently, he is training hard every day towards his goal of winning a gold medal at the Tokyo Paralympics. After that, Wada says he would like to "repay society" through efforts to increase people's understanding towards people with visual impairments, as he feels like his encounter with running and marathons saved his life. With his personal motto of "go forward," he believes, "If you keep going forward one step at a time, a path will open before you." With these values, Wada was able to overcome the obstacle of acquired vision loss, take his life back, and continue running towards the future.