Next-Generation Businesses
Feature:
Initiatives for Next-Generation Businesses
The NAGASE Group constantly strives to provide value that spurs innovations for comfortable lifestyles for future generations. We "Identify, Develop and Expand" technologies needed in the future. In this feature, we introduce the businesses the NAGASE Group has been focusing on for the next generation.
Case 1
Taking on Challenges in Next-Generation ICT Business
While data volume is increasing exponentially over information communications infrastructure due to IoT, the transition to 5G will bring ultra-fast speed, ultra-low latency and multiple simultaneous connections. 5G technology is an essential part of smart cities that deploy cutting-edge technologies, such as IoT and AI. Aiming to realize a sustainable world where people live with peace of mind, the NAGASE Group views growth in 5G-related business as a critically important business domain.
New Markets Created by Smart Cities
Smart cities are communities that strive to achieve comfortable lifestyles while addressing future issues, such as environmental problems and declining birthrates in an aging population, embedding IoT, which connects things to the internet, into infrastructure and people's lifestyles. IT and communications infrastructure, Industrial infrastructure, Transportation infrastructure and housing infrastructure all play central roles in smart cities. The NAGASE Group's businesses can provide the various materials and technologies necessary for building this infrastructure, such as substrates used in mobile communications base stations, smartphones and other devices, as well as materials for antennas. The market for these communications-related materials is forecast to grow to ¥64.5 trillion by 2025.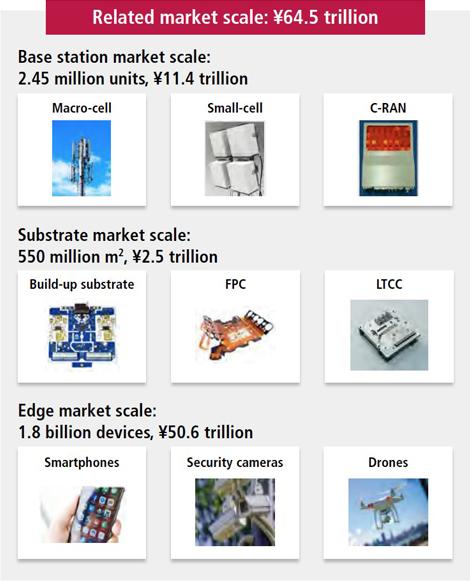 Strategy
The NAGASE Group's strategy for the next-generation information communications business specifically aims to develop business in two ways.
The first is to expand the business of materials, processes or equipment for substrates in new base stations or various types of edge devices, including smartphones, security cameras and drones, due to development of new materials or processes.
The second, as an exit strategy, for example NAGASE could deliver energy-related products like rechargeable batteries and services for the homes and buildings that form the foundation of smart cities to contribute to realizing a more abundant society.
Leveraging Group Synergies
The NAGASE Group will develop business by leveraging the comprehensive strengths of Group companies around the world that excel in their own fields of 5G-related parts, materials and technologies, the breadth of which covers low dielectric materials, circuit formation technology, glass substrates, and glass passive components, which are essential for high-speed data transmission in 2025, when 5G will have permeated society and the contours of smart cities take shape.
Through M&A and internal close communication among group companies to date, the NAGASE Group has strengthened its relationship and will make synergy for developing materials in the information communications business. We believe a major key to future business expansion will be collaboration among our subsidiaries Pac Tech- Packaging Technologies GmbH (Pac-Tech), a company in Germany with strengths in laser bonding technology and fine processing technologies; Finland-based Inkron Oy (INKRON), which excels in technologies that combine radio waves, electricity and light; and also partner 3D Glass Solutions, Inc. (3DGS) in the U.S., which has core technologies in 3D glass processing.
The NAGASE Group will develop core technologies while anticipating the major transition brought by 6G (6th generation mobile communications systems expected to be realized around 2027) technology in the future.
Core Technologies for 6G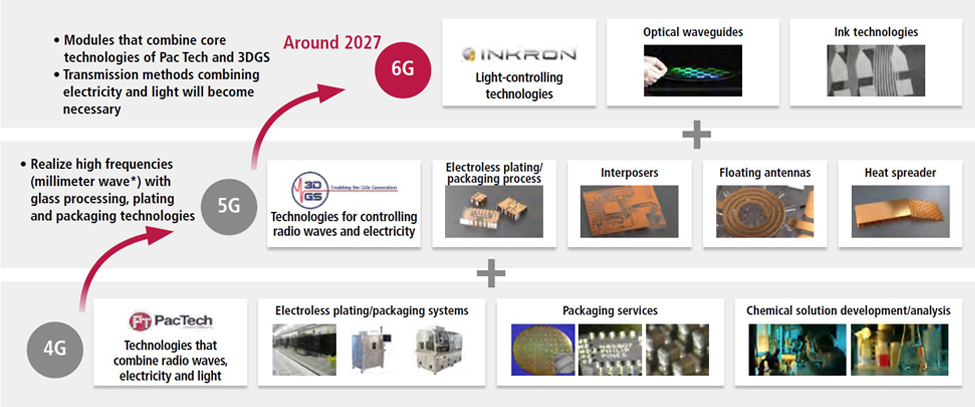 Aiming to Develop New Markets by Leveraging the NAGASE Group's Diverse Management Resources
Executive Officer
Takahiro Okumura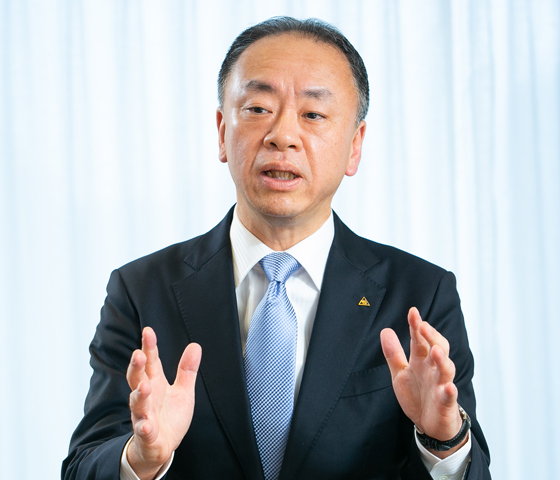 To accelerate expansion of our 5G business, we invested in 3DGS (US) in 2018. 3DGS excels in 3D microfabrication with photosensitive glass, and its promising technologies will be expected useful in the development of base stations and communications modules.
The NAGASE Group's R&D in next-generation information and communications is progressing with effective utilization of these diverse management resources spread across the world, Nagase ChemteX (Japan) and Engineered Materials Systems (US) specializing in for low dielectric materials for devices, Pac Tech (Germany) specializing in circuit fabrication on silicon and glass substrates, Inkron (Finland) specializing in next-generation optical materials for 6G technology, and other several group companies in Asia. Moreover, we're in alliance with chemical makers for material development by utilizing another expert function as the trading company.
On April 1, 2020, we launched the Advanced Information and Communications Project Team to come up with cross-organizational projects to drive the creation of new businesses among NAGASE group.